Things that'll make you go, "Awwww!!!"
I'm an overall animal lover, but at some point in my very early years, I locked into being a crazy cat person.
Who can really say why that happened… Is it some kind of cat loving gene that happens to be more prominent than the dog loving gene?
I can speculate though, and have a strong suspicion that my obsession with cats was kicked off with an incredibly short lived Japanese phenomena in the 80's called, Namennayo.
Created by the feline visionary and photographer, Satoru Tsuda, he carefully crafted meticulous scenes of incredibly cute kittens as Japanese human youth counterparts.
The literal translation of Namennayo is, 'don't lick it' or 'don't be lickin' it' with some 'tude.
But the real humor is in the context, since it's meant to be slangy and would probably read more like, 'don't bug me, bruh'.
17 Insanely Adorable 80's Kittens You Have to Obsess Over Now
These kittens are sporting traditional Japanese student uniforms, with a twist… let's just say that this scene depicts a version of kitty Grease.
And check out the sweeeeeeet rides.
After school, it's time to hang with the boys and for our Fearless Feline Hero to throw on his biker gear…
Hanging out with one buddy is mewl, but where's the rest of the gang?
Fearless Feline Hero is not only the leader of the litter, he's also always punctual.
Because, you know, a leader leads by example.
The rest of the pack promptly arrive and they paws to take another snap.
Now that they're all here, it's time for them to head out to their next destination.
It's (literally) like corralling kittens.
Not time for all that, it's show time, boys.
Our Fearless Feline also makes sure to take the opportunity to show off the solo licks he's been practicing.
Being this adorable and talented don't come easy, meow.
It was a magical night, but as with most good things, it can't last forever.
And alas, it's a school night.  It's time for a cat nap before heading off to school in the morning.
But Fearless Feline is restless.  He leads a litter of biker kittens, figurefeline for the coolest band in town and not bad with the ladies, too.
What's the point of school?  It's so boring, dude.
First up, some quality time with his main squeeze.
She looks like she needs a bit of a cleaning, but she's worried about missing class and not really feeling it.
Fearless Feline totally gets it, but can't say that he isn't disappointed.
Maybe his buddy will be more open to ditching class today.
Yeah, Fearless Feline knows that smoking ain't allowed in school, but if he's gonna, it's gotta be in the boy's room.
It's not long before they're out of butts.  He sends his second in command to get another pack.
In the meantime, the creative juices are flowing.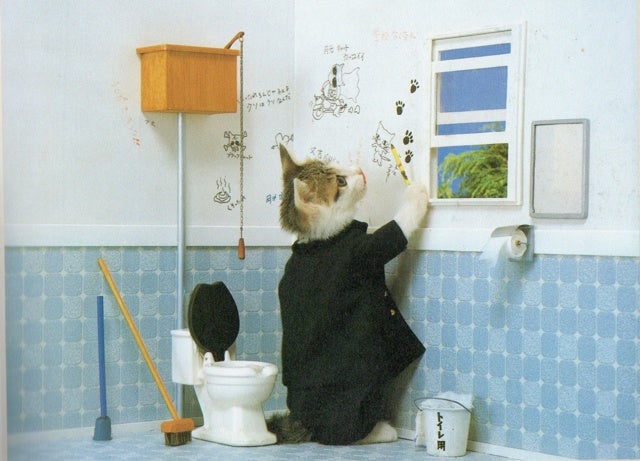 But darn if his buddy doesn't take too long fetching the cigs.
Fearless Feline's absence from class and the suspicious scent from the boy's room is enough for his hideout to get sniffed out.
He ain't the type to run and hide.  It's time to face the music.
Dude, these authority types need to chill.
It was just a couple of classes and some smokes.  What's the biggie?
Before long, however, Fearless Feline begins to feel that he may have pushed his luck too far.
A simple slap over the head might not be enough this time.
Will it be another after school stint in the cafeteria?
Or meow's alive, might it be his worst fear?!?
In a flash, he thought back to all his moments of regret.
That time he and his buddy had a little too much to drink, played all in and made out like cat burglars…
That time when he had to go REAL bad while on a ride on his bike…
And there was that time when he was convinced to do the most unchill thing EVER for Halloween…
What nip was he inhaling that day?
It was all becoming clear to Fearless Feline that if he kept going as he has, the future was not looking as bright as he'd once thought.
With that, as actual fears flashed through the mind of Fearless Feline, he bravely made a bold choice.
It was time for another life.  A life of integrity, order and authority.
And it's with this decision, he knew that along with his main squeeze, there'd be no stopping him.
The future so bright.  He's gotta bust out his formal wear and get busy.
And that is the end of our precious little cat tail.  Namennayo!
---
What are some of your favorite Namennayo meowmries?  Share them below!